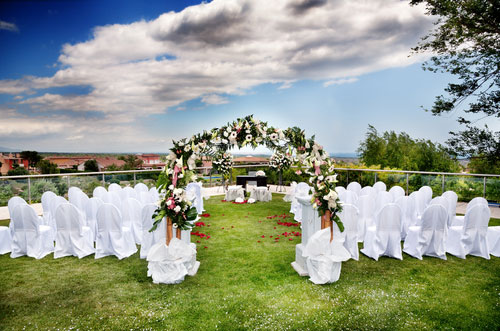 Need help with picking a special place for your big day? Don't worry, there are many places in New Jersey that are ideal for throwing the biggest wedding party of your life – for example, North Jersey. Whether you are trying to find a wedding venue based on location, style, drama, or beauty, we have got many recommendations for you. Let's check out the best wedding venues in North Jersey!
Nanina's in the Park
Where: Belleville, Essex County, North Jersey
Nanina's has facilities that make exceptional reception sites for weddings after the sun sets. In addition, it has beautiful gardens, a unique park setting, and unforgettable bridal walk. What's more, Nanina's can accommodate up to 400 guests for a seated dinner and a total of 1500 guests. If you choose Nanina's to be your wedding venue, you will have access to its grand ballroom as well as take in the sights of gorgeous crystal chandeliers, a grand fireplace, romantic gardens, a waterfall, marble staircases, and more. If you want to stay at Nanina's after your wedding is over, there is an elegant bridal suite awaiting your patronage.
The Conservatory
Where: Madison Hotel at Morris County, North Jersey
In New Jersey, the conservatory is known to offer one of the most unique and brightest wedding venues. When you arrive at the conservatory, you will be greeted by a space that exudes a visual hint of London's famous Crystal Palace – complete with huge crystal chandeliers, hanging planters, and vaulted glass ceilings. What's more, the venue features a ballroom, an award-winning steak and seafood restaurant, a hotel with spacious suites, and more.
Skylands Manor
Where: Ringwood, Passaic County, North Jersey
Skylands Manor is an American-style castle that is bordered by an enchanted forest. What's more, it is situated on a hilltop! If you are seeking a grand location for your wedding, this mansion is the perfect for your needs. The venue spans 100 acres and features fountains, expansive lawns, and formal gardens. Skylands Manor can also accommodate up to 300 guests for weddings and offers a bridal suite, a ballroom, a private chapel, and more!
The Venetian
Where: Garfield, Bergen County, North Jersey
The Venetian's stellar facilities feature one of the most extravagant interiors that truly feel like a place of magic and fantasy. You will have access to a grand ballroom that comes completed with an outdoor patio, lighted indoor fountain, dramatic staircase, on site catering and bar, gigantic crystal chandeliers, and marble floors.
Pleasantdale Chateau
Where: Essex County, North Jersey
Pleasantdale Chateau is situated in the center of a 40 acre estate, and is surrounded by grassy rolling hills and alluring gardens. The venue exudes an English Country estate feel and has a domed grand ballroom – one of the most dramatic spaces in NJ. The luxurious accommodations, charming wooden bridges, etc., will make your wedding experience an unforgettable one.
North Jersey is a friendly and welcoming state and it's no wonder that many people choose to settle down here. What's more, some couples who have held their weddings at one of North Jersey's venues have also chosen to purchase their first home here and start a family. If you are keeping your options open and want to know what else North Jersey has to offer, don't hesitate to contact us for the latest real estate listings and more!