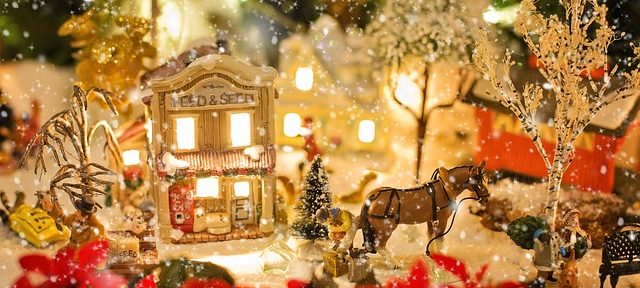 Northern New Jersey is always festive during the Christmas season. During this period, many visitors enjoy exploring NJ to discover the popular Christmas attractions and events like Christmas tree lighting, re-enactments of past Christmas events and carol singing. The Christmas holiday season usually starts the day after Thanksgiving and this is the time most people also prefer moving. If you are planning to move during this festive season, seek a professional realtor in NJ to help you find an ideal property for you. Check out these upcoming 2017 Christmas events in Northern New Jersey.
Swedish Christmas Fair
The Swedish Christmas Fair is planned to take place on Sunday, November 19th from 10am – 4pm. It will be situated at the Commonwealth Club, 26 Northview Avenue, Upper Montclair, NJ. This Swedish celebration will feature a great selection of gifts, crafts and food, making it the perfect event for a family outing. This event is organized by SWEA, a global non-profit organization, to promote Swedish tradition, history, culture and language. You don't want to miss Swedish handicrafts like wooden items, linen and Christmas decoration that will be showcased in the event. You will also get a chance to sample some of the Swedish delicacies and their home baked goods. The famous Swedish spiced holiday drink known as Glogg will also be available.
Holiday Lights Spectacular
This event is planned to take place at the Turtle Back Zoo from November 17 – December 10. The event will then continue every night from December 11 – January 2 from 5pm to 9 pm. About 50 holiday and animal-themed figures are set to light up the winter nights at the Zoo. There will be spectacular light illuminations from different figures like elephants, tigers and bears, along with lights designed to look like winter scenes, stars and soldiers. Visitors will have a chance to enjoy several animal exhibits like the Reptile Building, Tropical Currents Aquarium, Tam-ring Gibbons Reserve, Essex Farm and the Sea Lion Sound.
Festival of Trees "Deck The Halls"
Deck The Halls is a celebration organized to bring the nearby communities together to enjoy a spectacular display of holiday trees. The event is set to take place at the Barn at Highlands Ridge Park, 100 North Road, Chester, NJ. The event will start from December 2 – 9 from 10am – 8pm, with hours of operation changing over the weekend. Families, civic organizations and businesses will be allowed to decorate individual trees displayed at the event. There will be local music talents to entertain the crowd and the proceeds will support the programs and activities of the Senior Resource Center.
The Snowflake Parade
This parade is set to take place from Holmes along Millburn Avenue to Spring Streets. The date will be Sunday, December 2 from 1.30pm to 4.30pm. The streets will be filled with professional bands, costumed characters, and clowns. Refreshments will be offered after the parade. Take your loved ones to enjoy the great marching bands, Investors Bank Train, the Wells Fargo Horse, and more.
If you are planning to relocate to NJ, don't miss any of these events. You and your family will have a chance to experience what New Jersey has to offer and allow you to learn more about the community. There are several property listings you can check out to find a place that will fit your budget.