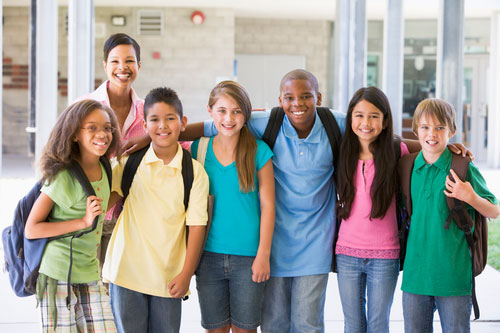 You may be planning to move or have already moved into New Jersey. Before your move, you have already familiarized yourself with NJ's many awesome amenities, points of interest, and dining destinations. What's next? If you have kids, you definitely need to check out the schools in the neighborhood. In this post, we are featuring schools in Saddle River and Upper Saddle River for those who are buying property in these two communities.
Available Schools in Saddle River
In Saddle River, you will be able to find two primary and secondary schools. The Saddle River School District is in charge of the public schools in Saddle River. Other neighboring school districts include Northern Highlands Regional High School District and Ho-Ho-Kus School District.
Saddle River Day is a private school that was established in 1957, by John C. Alford. It teaches over 300 students that come from communities in Morris, Passaic, Essex, and Bergen County. Its first senior class successfully graduated in 1960. Saddle River Day School comprises of three divisions, namely the lower division, the middle division, and the upper division. The student-teacher ratio here is 7:1. Students attending the school are assured to receive complete education, which helps them achieve personal and academic excellence and become an ethical and caring contributor to society.
Wandell Elementary School
Wandell is a public elementary school that is located in the heart of downtown Saddle River. As a PK – Grade 5 school, a student count of over 220 attend Wandell Elementary School. Its motto is 'Knowledge is Power' and has a student-teacher ratio of 9:1. Since its inception, Wandell has been educating their students to become independent problem solvers and thinkers so that they acquire the necessary skills to achieve success and become empowered whilst overcoming the challenges of tomorrow's emerging world community. Wandell Elementary School is also supported by the Board of Education.
Available Schools in Upper Saddle River
In Upper Saddle River, parents can find four primary and secondary schools. Each school has and maintains high ratings, and that's why parents can rest assured that the Upper Saddle River School and Northern Highlands Regional High School districts perform better than nearby districts.
Robert D. Reynolds Elementary School
With a student-teacher ratio of 9:1, Robert D. Reynolds Elementary School provides dynamic educational experiences for its students. Whether you are looking to enroll your child into a full-day kindergarten program or pre-school class, Robert D. Reynolds Elementary can help. This is a child-centered school so you can expect your child to learn how to take an active approach to learning. They will also be encouraged to develop a lifelong love of learning and be a good team player.
Northern Highlands Reg High School
Over 1,300 students attend the Northern Highlands Reg High School, and the one teacher is often assigned to handle 11 students. As a regional public high school, Northern Highlands Reg provides education for students from Grades 9 through 12. During the 1986 and 1987 school year, the school was awarded the Blue Ribbon School Award of Excellence.
Edith A. Bogert Elementary School
Bogert is a school of about 455 students, from Grades 3 through 5. The school bridges the transition at two junctures, i.e., from primary grades to upper-elementary and then from upper-elementary grades to middle school. With a student-teacher ratio of 10:1, Bogert aims to foster a passion for learning and discovery in their students. In addition, their curriculum is designed to promote higher order thinking, problem solving, and literacy in all subjects.
Emil A. Cavallini Middle School
Emil A. Cavallini is a public middle school that ranks No.1 within the Upper Saddle River School District. Over 470 students attend Emil A. Cavallini and the school has a 10:1 student-teacher arrangement. Parents that have children attending this school can rest assured that they are taught by some of the best teachers in New Jersey.
If you are having trouble finding a suitable home in Saddle River or Upper Saddle River that are nearby the reputable schools, do not hesitate to consult an experienced realtor. You can contact us at NJLux for more information.