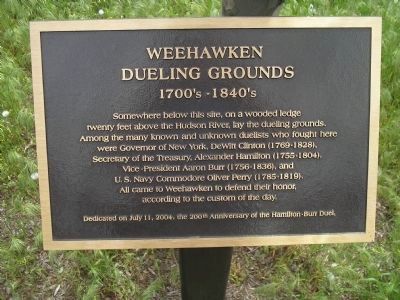 Located on the southern end of the Palisades, Weehawken is a township in Hudson County. The zip codes for this area are 07086 and 07087. In the last decade, there has been an extensive development on the waterfront. Earlier commercial and residential growth took place atop the cliffs of Weehawken, NJ. If you are looking to purchase a home here, there are over 10,000 options for you to choose from in the neighborhood's 1.4 square miles. Let's find out more about what Weehawken is like as a neighborhood:
Living in Weehawken, NJ
Weehawken is recognized as a microcosm of the metropolitan area. It is home to various sites of engineering, aesthetic, and historic importance, including famous attractions such as the George Washington Bridge and Verrazano-Narrows Bridge. Locals and tourists are able to capture panoramic views without fail. Next, the diverse populations usually meet up in the neighborhood's dog-friendly parks, library, schools, and other recreation programs.
Weehawken is no stranger to having a quality education system. Children are able to attend schools such as the Daniel Webster School, Theodore Roosevelt School, and Weehawken High School. Let's not forget that travelling to and from Weehawken is easy as well. It usually takes less than 10 minutes to drive into the city through Lincoln Tunnel and residents have access to the New York Waterway ferry.
Dining Spots
Chart House Weehawken is located directly across from Manhattan and right on the Hudson River. It is an exceptional seafood restaurant that provides gorgeous panoramic views of the glittering New York skyline. Its unique cuisine features classics like their Slow-Roasted Prime Rib and seafood specialties like Mac Nut Mahi. As Chart House has also been taken advantage of for their gorgeous location, by several blockbuster movies and primetime television shows, Chart House is no stranger to having celebrity status.
If you wish to dine at a venue that offers a spectacular view of the New York City skyline and the Hudson River, you will not want to miss out on Ruth's Chris Steak House. Their newly expanded and remodeled restaurant offers a stellar cocktail selection as well. Come an experience their fresh updated elegant atmosphere and make use of their state-of-the-art private dining rooms. At their steak house, they make sure every occasion is the most memorable one yet, for their customers.
Points of Interest
Intrepid Sea, Air & Space Museum
Intrepid Sea, Air & Space Museum is a National Historic Landmark and is dedicated to the interpretation and exhibition of history and science. Visitors are welcomed to explore a wide range of interactive exhibits, historic video footage, and examine original artifacts. A prominent section in this attraction is the Space Shuttle Pavilion. It showcases the space shuttle Enterprise, which is a prototype NASA orbiter. All in all, there are more than 10 dynamic exhibit zones that will leave you in awe.
Lincoln Center for the Performing Arts
Lincoln Center for the Performing Arts was set up as the premier performing arts venue for Weehawken and is approximately 20 minutes away from the neighborhood. Since its inception, Lincoln Center has been presenting and developing the brightest and finest in a wide variety of performing arts to an audience that came from all walks of life.
As you can see, Weehawken is a bustling neighborhood with so much to see and explore. If you are thinking of starting your family with kids, this is a neighborhood that will not disappoint. Check out the latest Weehawken listings today!