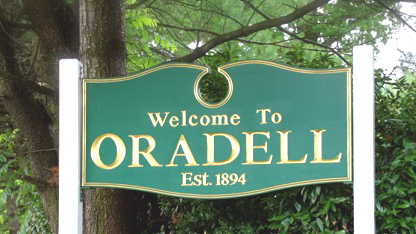 Located in Bergen County, Oradell is a borough that makes frequent appearances in an array of lists that celebrate the best places to live in New Jersey. The zip code for Oradell is 07649. This borough is located approximately 15 miles from Midtown Manhattan, and that's why it borders River Edge, Paramus, New Milford, Haworth, Emerson, and Dumont. Formed from portions of Rochelle Park, Palisades Township, and Harrington Township, it is not surprising to find out that Oradell is a resident magnet. Let's find out what Oradell is like as a neighborhood:
Living in Oradell, NJ
Oradell is recognized as a family-friendly neighborhood and is a perfect place to raise young children. As the neighborhood is home to top-notch schools, your little ones can get quality education. If you work in the Big Apple, you have more than one option to get to NYC: Take a New Jersey Transit bus, drive over the George Washington Bridge, or hop on the Pascack Valley line. There are many outlets for recreation at Oradell as you can find places like the Doug Parcells Athletic Complex. If you have a thing for split-level, colonial, or quaint Victorian homes, the streets of Oradell are lined with such properties.
Dining Spots
Ocean Sushi Japanese Restaurant
Just can't get enough of tempura shrimps, crab meat, BBQ tuna, red ball rolls, etc.? You can satisfy all your sushi cravings at Ocean Sushi Japanese Restaurant, which is located at 619 Oradell Ave, Oradell, NJ 07649. One of the main highlights at Ocean Sushi Oradell is their BYOB policy!
If you are craving for some Chinese food, you will want to head down to 297 Kinderkamack Rd, Oradell, NJ 07649. Serving both lunch and dinner specials, Jade Dragon Restaurant is also known to offer Hunan, Szechuan, and Cantonese food. Need to get your chow fun or mein fun fix? Jade Dragon Restaurant is the place you want to dine at!
Points of Interest
Hiram Blauvelt Art Museum
Established in 1957, Hiram Blauvelt Art Museum was founded as a natural history museum. It raised the importance of supporting wildlife and habitats conservation. A trip to the museum allows you to check out the works of contemporary wildlife artists via its four mini galleries.
New Milford Plant of the Hackensack Water Company
Built in 1882, this historic water filtration and pumping plant features a huge underground infrastructure, a tall filtration tower, and a pumping station. Even though the plan is no longer operational, it has not stopped curious urban explorers to check out this historic facility. Considered one the ten most endangered historic sites, there have been plans to stabilize the buildings at the complex so that the complex can be opened to the general public again.
There is no doubt that Oradell is really a pleasant neighborhood that you can live in and call home. From the borough's close proximity to NYC to quality housing options, Oradell proves that it is the perfect place for individuals who are starting their family with kids. Can't wait to get started on house hunting? Check out the latest Oradell listings here!