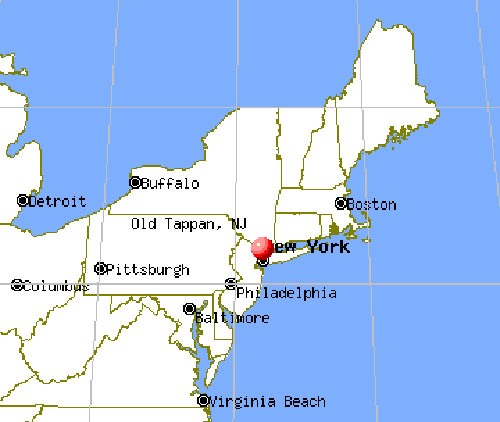 Old Tappan is a borough in Bergen County that was incorporated in 1894. This community is bordered by Orangetown, New York, and Tappan. Old Tappan is a great place to build huge houses (thanks to the large sizes of land available here.) and offers a great array of amenities and recreation services. The neighborhood is also located close to New York City and that's why many working adults and families choose to live in Old Tappan.
Living in Old Tappan, NJ
Old Tappan is undoubtedly a wonderful community to live in. There are great schools located, varied housing stock and excellent shopping amenities located here. Whether you have a liking towards traditional homes, ranches, splits, etc., you will be able to find or build the home of your dreams. What's more, the whole town goes to the same elementary and middle school. You can feel a sense of togetherness that other towns do not exude. Calming tree lined streets and cozy cul de sacs await those who stay here.
Dining Spots in Old Tappan
Charlie Brown's Steakhouse
No matter where you call home, you can always expect Charlie Brown's Fresh Grill and Steakhouse to offer you a family-friendly restaurant atmosphere. Coupled with delicious food (we are talking about their famous Unlimited Farmer's Market Salad Bar™, juicy USDA Choice burgers, delicious USDA Choice steaks, and aged hand-carved, slow-roasted prime ribs!) and great service, this joint is a place you look forward to dine at any day of the week.
Vicolo Ristorante
Vicolo Ristorante offers upscale dishes that are the epitome of Italian cuisine. From homemade ravioli and osso bucco to Chilean sea bass, many dishes here will quickly become your favorites. What's more, the fully-staffed and 80-seat restaurant is often patronized by many businessmen and women during lunch hour. Families dine here during dinner time too!
MOOYAH Old Tappan
Feel like grabbing a quick meal on a busy work day? MOOYAH at Old Tappan got your back. From real ice cream shakes, hand-cut fries to never-frozen beef, this is perhaps the best joint for burgers, fries and snacks. If you are currently eating clean, you will also find leafy salads here too!
Points of Interest Near Old Tappan
Below are a few points of interests that are closest to Old Tappan. The closest is the borough of Manhattan and it is less than 35 minutes away.
The Cloisters
The Cloisters is a uniquely fortified monastery that incorporates four reconstructed medieval cloisters sits atop a hill, in a famous park that overlooks the Hudson River. Inside it is a precious collection of medieval art including tapestries and sculptures that span centuries. To fully experience the collection, you are recommended to opt guided or self-guided audio tours.
New-York Botanical Garden
This is one of the oldest gardens in the US. This large and glorious green space features an awesome array of plants and blooms. There are over 50 gardens to explore here. From a beautiful Victorian glass conservatory to lovely perennial and herb plots, there is so much to do here!
If you are planning to stay in Old Tappan, and want to look for luxury properties in this neighborhood, don't hesitate to check out these Old Tappan listings now.