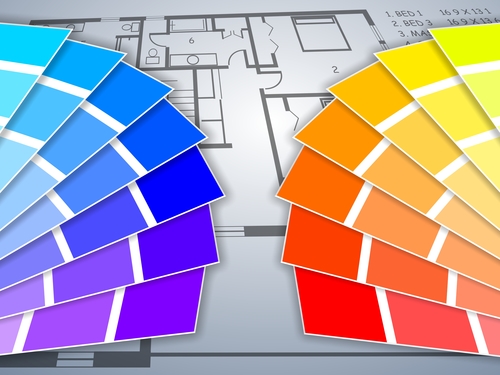 With the seasons changing, it's time to make some changes in your home, too. Consider adding the newest nature-inspired paint colors on the walls or as accents around a room to make it feel fresh and vibrant. There are a lot of easy and inexpensive ways to update your home. Read on and let these spring color palettes inspire you to update one room, or your whole house!
Gold, Yellow, and Tangerine
Always sunny and warm, these aren't the same harvest gold and orange hues you may remember from the 70s. Springtime decorating with these colors will brighten a dark, north facing room or add a splash of energy. Mix canary yellow or bright tangerine with rich gold accents in picture frames, lamp bases, and accent pieces. These intense colors can be a bit overpowering, so use a light touch.
Coral and Blush Tones
Subtle in contrast, this tone-on-tone approach is fresh, young, and feminine. These colors are popular for interiors and perfect for a girl's bedroom or a small bathroom. To make it less "girly", add tan and brown or navy and robin's-egg blue accents.
Ice Cream Tones
Think about using sherbet and ice-cream hues as your decorating inspiration. Soft and soothing, these colors can be used in the rooms that you want to relax in. Add throw pillows, rugs, vases, or other accent pieces in orange sherbet, mint or sea-foam green, pale pink, and white. Don't be afraid to use several of these colors together.
Violet and Lavender
Lilacs bloom in the spring. Reflect this aromatic flower inside your home with the soft colors of violet and lavender. Pair it with rich, deep purples with blue undertones for an elegant look or keep it fresh by adding a variety of green and cream tones. These classic combinations never go out of style.
The Many Hues of Green
The most notable color of springtime, green is everywhere. Think of green grass, Granny Smith apples, spring peas, and budding trees and flowers. When mixing a variety of hues, be aware of the undertones of the colors you choose. Be sure to pair yellow-greens (apple green, lime green, khaki) together and keep blue-greens (teal, celadon, jade) together in order to blend and compliment all of the shades.
Green and hot pink is a classic combination. Add some sophistication by choosing a tan or sand tone as an accent or mute the colors to a soft green and pale pink.
The pairing of gold and spring green can be very glamorous. Add darker tones, like olive or emerald, to make the room more elegant or lighten it up with celery green to add a bit of whimsy and fun.
To give your home a super fresh and clean vibe, use acid green and white. Crisp and intense, acid green has a lot of yellow in it, so use a pallet of neutrals to keep it from being overwhelming. This color combination can work all year round and in many rooms.
White and Salmon
Often described as a cross between orange and pink, salmon doesn't always work well with other colors, so choose carefully. It's best to keep the entire pallet simple. Let it be the center of attention and just add touches of black and crisp white.
Decorating your home should be fun and reflective of the occupants. Don't over-think it and always use what you love.
If you are in the market for a new home to decorate to your specific taste or have dressed up your older home up and are ready to sell, contact N.J. Lux Real Estate. We can assist you in your endeavor.