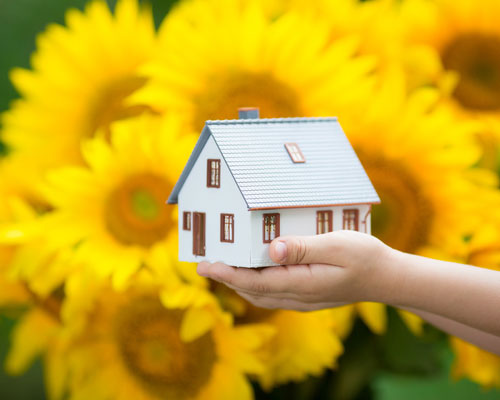 Let's take a look at some of the summer home renovation ideas that can not only help to beautify your home but increase its value. Improvements can be as simple or as involved as you want. They can be quick and inexpensive, or something that you may have been saving up for. If budget is less of a concern, you can also go the mile to hire a home designer to inspire your summer home improvement project.
Spruce Up the Outside With a Coat of Paint
The warmer weather of summer is the perfect time to tackle outdoor projects like painting the outside of your home. Visitors, neighbors, friends, and family will all revel in the improved look. Your entire property will take on a whole new aesthetic appeal. Don't forget to caulk any holes and around windows, replace damaged wood, repair masonry, and repair and replace metal as needed before you start painting.
Make the Driveway More Attractive
Do you have a gravel driveway, dirt driveway, or a paved driveway that has seen better days? Summer is the time to repave. Heavy machinery is going to be a must here so make sure that your yard can stand the weight and that there is room for all of this machinery to maneuver. Check with your local paving contractor to see what else you'll need to do ahead of time. Once the driveway is done, you may want to concentrate on sidewalks, walkways, paths, etc.
Refresh And Energy Proof Your Windows Inside and Out
There are two ways of looking at this:
Pull out those old, leaky, drafty windows and install new, state-of-the-art, energy-efficient windows. You're going to be amazed at how your energy bills change once these windows are installed. And that goes for summer months as well as winter months.
Install beautiful but energy-efficient window treatments on the inside of your windows. These can provide a plethora of benefits from letting in just the right amount of light to keeping out the cold and wind, and everything in between. At the same time, new window treatments will beautify the inside of your home and make a statement that completes the decor and ambiance of the room.
If you can only afford to do one of these now and then the other at a later point in time, this summer, go with switching out the windows themselves. The weather is perfect for such an endeavor. You can always take care of the interior window treatments once the weather has turned a bit cooler and you have saved up a little more cash.
Add a Bathroom or Improve an Existing One

If you have the room, add a half bath or another full bath to really increase the value of your home and improve its general sense of convenience. Even if it's just the two of you, there is no harm in having an extra bathroom – ask any married couple that has been married for a while. Visiting friends and family will appreciate this as well. But if you just want to beautify the bathroom that you have, there are unlimited improvements that can be made. Take out outdated tiles, cracked mirrors, and grimy fixtures and install new, shiny, state-of-the-art models. Old tubs can give way to new and improved shower stalls. Single vanities can be replaced with his and hers vanities. And make sure that when replacing fixtures you use new, water saving, energy-efficient replacements.
Beautify That Backyard
If you have a green thumb, this is a great do-it-yourself project for the summer. If not, there are more landscaping contractors out there than you can even imagine. Consider adding a patio, grilling area, fire pit, pool, serenity garden, sprinkler system, lighting, pathways, and more. Not only will this be nice for you and your family but your neighbors and visiting friends will eagerly await each and every opportunity for a backyard cookout.
If you're in the neighborhood to buy a new house with lots of yard space that you can landscape and beautify, contact a top real estate agent today. Perhaps you're looking for a fixer-upper. Whatever the case, we can take into consideration what's important to you and match you up with the perfect home.